Sunken WWII destroyer off Cape May holds family's fascination and its fate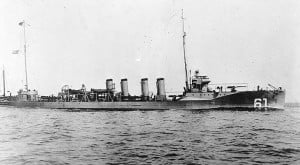 By Michael Miller - Press of Atlantic City

Retired U.S. Navy Master Chief Joseph Tidwell will return to Cape May on Sunday for the first time since he was rescued during a submarine attack off the coast in World War II.

Tidwell, 91, worked in the engine room aboard the USS Jacob Jones, a destroyer that was hunting German submarines off Cape May County.

He was one of only 11 survivors in the Feb. 27, 1942, attack that sunk the ship and killed 131 sailors. He is returning to Cape May all these years later because his grandson, U.S. Navy Cmdr. Eric Tidwell, dived on the wreck 25 miles off Cape May.

The dive Friday marked an intersection of generations and career choices that have defined the two men. The events of that freezing morning off Cape May 69 years ago nearly spelled oblivion for Tidwell and his descendants.

"It was quite a day," Tidwell recalled by phone from his home in Middleburg, Fla.

The destroyer was named for Commodore Jacob Jones, a naval hero who defeated the British ship Frolic off the Delaware Bay during the War of 1812. The massive ship, more than 300 feet long, was built in Camden and launched in 1918 in a ceremony that featured Jones' great-granddaughter.

Tidwell and his destroyer steamed out of New York Harbor on Feb. 27, 1942, to patrol the New Jersey coastline.
German U-boat attacks were an increasing menace off the American coast in the early years of the war, prompting the hasty construction of lookout towers such as the one in Lower Township that still stands today.

Almost immediately, the crew was dispatched to the sinking oil tanker R.P. Resor about 5 miles off Manasquan Inlet.
Smoke and flames from the torpedoed tanker could be seen from beaches in Monmouth County, an account in the Asbury Park Press states.

Finding no survivors, the destroyer continued its patrol that night, heading south to the Delaware Bay. Tidwell and the rest of the 141 men aboard had no idea they were being stalked by the same German U-boat that sank the tanker.