Sunken ship with thousands of bombs on board could collapse'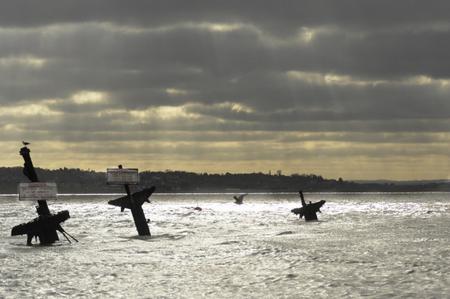 Photo Barry Crayford

By Gemma Constable - Kent Online
A ship that sunk off the Kent coast with thousands of bombs on board is deteriorating more quickly than in recent years, experts have warned.
SS Richard Montgomery sank off Sheerness in 1944 after it became grounded on a bank and broke in two.
A salvage operation had to be abandoned and the wreck of the American liberty ship remains packed with a mixture of explosives.
They include more than 2,000 cases of cluster fragmentation bombs, nearly 600 500lb semi armour piercing bombs and at least 1,000 additional 1,000lb bombs.
An explosion could trigger a tidal wave up to one metre high, destroying some coastal communities and causing as much as £1 billion worth of damage.
A full report on the condition of the wreck is due to be published by the Maritime and Coastguard Agency (MCA), which is responsible for surveillance, in the next eight weeks.
This week, a summary of the report, based on surveys carried out in 2008 and 2009, was released by the Department for Transport following a Freedom of Information Act request.
There were greater levels of deterioration than has been seen in previous years, which may suggest the rate of its decline in some areas of the hull has accelerated.
The results point towards significant collapse and/or loss of munitions becoming a more realistic possibility in the medium term, although there appears to be no imminent danger.