HMS Hermes wreck shipshape for plunder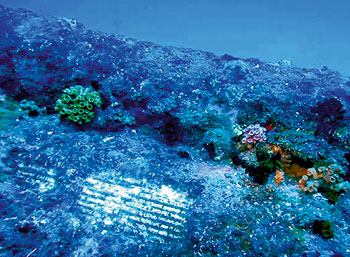 From the Sunday Times

An underwater museum of WW II artefacts, housing exotic marine life, cries for protection from salvage pirates

Lying in its watery grave, at a depth of a little over 50 meters off the East coast, the world's first aircraft carrier, HMS Hermes is Sri Lanka's star shipwreck.

Sunk by Japanese bombers during World War II, it is now attracting serious attention of both local and foreign divers. But there came disturbing news, where a recent investigation by the National Aquatic Resources Agency (NARA) has found attempts to remove one of the cannons off this wreck.

Photographs by NARA's underwater survey team chief Lucky Ginige show attempts to remove artefacts from the Hermes and the exposed data plate of one of her guns. Divers who explored the Hermes shipwreck say the main tower of Hermes broke at the impact of sinking, but overall, most of the ship is intact.

Several anti-aircraft guns, including a few canons are among the key features of the wreck that attract divers worldwide to this iconic shipwreck. Therefore, this shipwreck is a star attraction of Sri Lanka's dive-tourism, and dive operators highlight the need to preserve its present status.

In recent months, especially after the war, many shipwrecks have been salvaged for their scrap metal and artefacts. Plans are afoot for the salvage of many more sunken ships, but it is not prudent, point out marine experts, as these shipwrecks have become artificial Coral Reefs that support a variety of marine life.