SS Worcestershire: A forgotten shipwreck found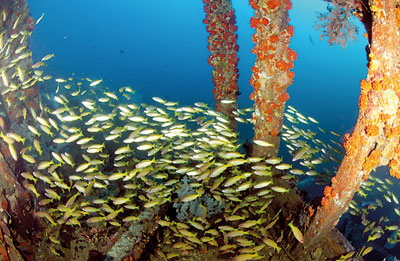 By Malaka Rodrigo - Sunday Times

Three young divers describe the excitement of discovering World War 1 treasures lying in the seabed of Sri Lanka.
Recently the world commemorated the 100th anniversary of the sinking of the Titanic. Five years after the Titanic disaster in 1917, a British armed merchant ship met its end in the Indian Ocean near Sri Lanka.
The SS Worcestershire was en route from Rangoon to London when it was sunk by sea mines laid by German armed merchant raider SMS Wolf that was hunting British ships in the Indian Ocean at the height of World War 1. Two members of the crew died as the SS Worcestershire sank to its watery grave.
Nishan Perera, Naren Gunasekara, and Dharshana Jayawardena, three young divers have been on the trail of this lost ship for some years and recently were able to ascertain the identity of the wreck of SS Worcestershire. "We have located this ship about 12 km west of Mount Lavinia.
The ship is massive -137 metres in length and 16.6 metres in width," the divers told the Sunday Times.
Though local fishermen and occasional divers hunting for reef fish knew about a shipwreck in this locality, they had no clue that it was an important wreck sunk during World War I.
"Finding the SS Worcestershire wasn't easy. Maritime activities during World War 1 around Sri Lanka have not been well documented and we searched for two years," said Dharshana.
"We knew the approximate locality, and kept checking with local fishermen who can give us vital clues as they are used to fishing on wreck sites that are rich with fish." Finally, one fisherman had shown them the location of an old ship and the trio wasted no time in diving for the wreck last April.
"As always, a first glimpse of a shipwreck is bone chilling and thrilling. As drowsiness due to the deep dive envelops your senses what seems to be a large and hazy shadow slowly develops details.
Then, at 50 metres we are at the ship and in a strange, deep, lush paradise seen by a few," Darshana said, recalling his first sight of the sunken ship.
The ship was at a depth of 57 metres and largely broken up inside. Since it was not identified, the trio initially named the wreck B2633 – the name denoting its depth as measured in local dialect.