The mysteries of the underwater world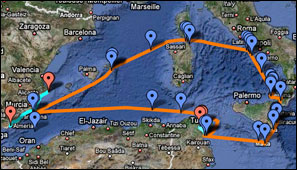 By Cammy Clark - Miami Herald

The mysteries of the underwater world have intrigued Ian Koblick since he was a teenager diving into the unknown with homemade scuba gear and an air tank filled at a gas station.

His first underwater exploration yielded a lost boat motor in a California lake and a $10 reward. That started an eclectic marine career.
He's served as an aquanaut in the Tektite undersea research program off the Virgin Islands, searched for treasure from a sunken 1622 Spanish galleon with Mel Fisher and co-developed the Jules Undersea Lodge in Key Largo.

Now, through a nonprofit, Koblick, 72, helps operate multimillion-dollar marine expeditions that scour the bottom of the Mediterranean Sea for ancient shipwrecks.

"This is not treasure hunting; it's archaeology," he said recently from his office in Key Largo.

In 2003, he co-founded the Aurora Special Purposes Trust with fellow ocean explorer Craig Mullen, whose former company helped recover the space shuttle Challenger. The duo wanted to advance the understanding of ancient civilizations through marine cultural heritage.

The operation has discovered 24 ancient shipwreck sites during highly technical surveys of ancient ports, harbors and trade routes in coastal waters of Italy, Malta, Croatia, Spain and France. Many have not been seen for 2,000 years or more.

"How much is out there? That's the million-dollar question," said Timmy Gambin, Aurora Trust's archaeologist, in a phone interview from his home in Malta. "We're just looking in water that's 50 to 150 meters deep [about 150 to 450 feet], and we've come across so much that was previously unknown. It shows there is a lot out there."

The expeditions also have uncovered World War II shipwrecks, more than a dozen World War II airplanes and unexploded military mines.

"We're also mapping the underwater landscape of war," Gambin said.

The Aurora Trust operates primarily from an 85-foot luxury research yacht equipped with the latest in diving technology, side-scan sonar, magnetometers, deep-sea robotic vehicles and sophisticated computer software.
Mediterranean sea archaeology technology