Divers search for Armada treasure off Mull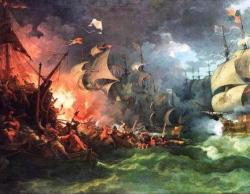 By Paul Kelbi
More than 400 years after a Spanish galleon loaded with gold and silver slid beneath the waves in the waters surrounding the Isle of Mull, a new mission has been launched to try to recover its hoard of treasure.

Divers will begin to sift through the silt at the bottom of Tobermory Bay in an attempt to recover the valuable cargo, reputed to have been intended to bankroll the ill-fated Spanish invasion of England in 1588. It is the second time that Sir Torquhil Ian Campbell, the 13th Duke of Argyll, has launched such a mission.

The mystery of where the battle-scarred ship lies has puzzled treasure hunters for centuries. According to local folklore, the vessel - laden with gold, jewels and priceless historical artefacts - is at the bottom of Tobermory Bay.
Following the armada's defeat at the hands of Sir Francis Drake, many Spanish ships fled north to escape the English fleet, but became caught up in violent storms.
Exactly how the Almirante di Florencia or the San Juan de Sicilia - the vessel's exact identity has never been established - foundered is unknown.