First Americans 'reached Europe five centuries before Columbus discoveries'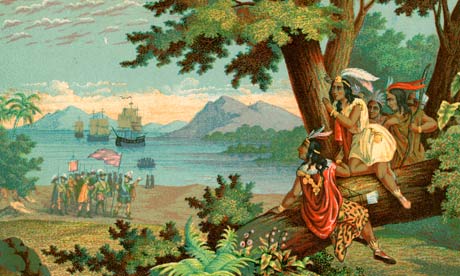 PoodlesRock/Corbis



By Giles Tremlett - The Guardian

Scientists claim first Americans arrived long before Columbus bumped into an island in the Bahamas in 1492.

When Christopher Columbus paraded his newly discovered American Indians through the streets of Spanish towns at the end of the 15th century, he was not in fact introducing the first native Americans to Europe, according to new research.

Scientists who have studied the genetic past of an Icelandic family now claim the first Americans reached Europe a full five centuries before Columbus bumped into an island in the Bahamas during his first voyage of discovery in 1492.

Researchers said today that a woman from the Americas probably arrived in Iceland 1,000 years ago, leaving behind genes that are reflected in about 80 Icelanders today.

The link was first detected among inhabitants of Iceland, home to one of the most thorough gene-mapping programs in the world, several years ago.

Initial suggestions that the genes may have arrived via Asia were ruled out after samples showed they had been in Iceland since the early 18th century, before Asian genes began appearing among Icelanders.

Investigators discovered the genes could be traced to common ancestors in the south of Iceland, near the Vatnajˆkull glacier, in around 1710.

"As the island was practically isolated from the 10th century onwards, the most probable hypothesis is that these genes correspond to an Amerindian woman who was taken from America by the Vikings some time around the year 1000," Carles Lalueza-Fox, of the Pompeu Fabra university in Spain, said.
Christopher Columbus Dominican Republic