The most important British vessel sunk off the Chinese coast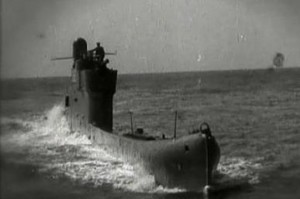 From gCaptain
In recent weeks, the 100th anniversary of the sinking of the RMS Titanic in the North Atlantic and the 3D re-release of 1997′s Oscar-winning 'Titanic' has galvanized attention in China, where movie goers spent $58 million over the course of a single weekend to re-experience the demise of the infamous liner.
Now a pair of filmmakers are hoping to draw attention to the nearly forgotten sinking of another British vessel, this one a submarine off the Chinese coast.
The HMS Poseidon, a British military submarine that sunk in eastern Chinese waters in June 1931, went down under totally different circumstances from the Titanic.
Yet in its day, it also shook the nautical world, spurring global change in the way men went to sea — in particular because of the dramatic undersea escape by a handful of its submariners.
A preview of "The Poseidon Project," a documentary about the British sub named for the Greek god of the sea by brothers Arthur and Luther Jones, was shown to a small group this week in Shanghai, ironically in a room decorated with silk squids hanging from ceiling.
The film's narrative tracks the Poseidon's brief timeline from its launch in England to its arrival at a British naval outpost on the Weihai peninsula in Shandong Province.
The film explains how during routine surface maneuvers on June 9, 1931, the Poseidon collided with a Chinese freighter.
With a tear in its starboard side, the sub went down in just four minutes and dragged much of its crew 120 feet below the surface.
Nicely executed drawings and other artwork in the film illustrate how a small group of five submariners — including one Chinese boy — then made it to the surface alive.
Back home in England, they were welcomed as heroes, because at that point for submariners, as the film's narrator points out, "escape plans were only theoretical."
The survival of the five members of the Poseidon crew changed much for undersea exploration, the film says.
For instance, certain benchmarks used by scuba divers today, such as those to avoid decompression sickness (also known as the bends), were determined based on studies of survivors.