Divers stage emergency excavation of historic Thames shipwreck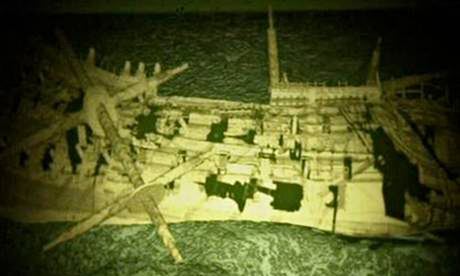 By Dalya Alberge - The Guardian
Archaeologists will embark on an emergency excavation of one of Britain's most important shipwrecks on Sunday after discovering it is deteriorating at alarming speed because of the warmer waters caused by climate change.
The once-mighty 17th-century vessel, named the London, has lain in the muddy silt of the Thames estuary off the Essex coast near Southend-on-Sea for 350 years.
Built in 1656, she was in a convoy that transported Charles II from the Netherlands to restore him to his throne after Oliver Cromwell's death in 1658. One of the most illustrious ships of her day, her remains are now a time capsule of the 17th century.
English Heritage, the government advisory body, has commissioned Cotswold Archaeology to carry out a major excavation.
Mark Dunkley, a marine archaeologist at English Heritage, told the Guardian: "It's rare for wooden shipwrecks of this age and older to survive to this extent."
The hundreds of surviving wrecks are mostly later iron and steel ships.
Asked why the wreck is deteriorating now after 350 years, he said: "Through human-induced climate change, warmer water is moving northwards. That's allowing the migration of warm-water invasive species."
He spoke of the need for action to stop warm-water ship-boring organisms eating away at timber and organic artefacts and prevent loose objects being dispersed.