$3B WWII shipwreck located by Sub Sea Research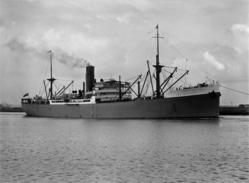 From PRWeb

Sub Sea Research (SSR) spent months searching for the elusive ship, the Port Nicholson, torpedoed by German U-boat U87, June 1942.

It took two torpedoes and about 7 hours to sink her. U-87 also fired at the troop ship the "Cherokee," quickly sinking her with a heavy loss of lives.

The Port Nicholson is a steel-hulled, 481 ft. merchant ship, coal fired freighter built in 1918 at the Tynes & Wear shipyard.

She was carrying two special envoy USSR agents overseeing the delivery of a very important Lend-Lease payment from the USSR to USA. She along with 4 other commercial vessels were being escorted by an unusually high number of military ships.

The normal ratio at the time was near 1:10 or less but this convoy ratio was 6:5. Maybe it was the fact they were delivering 1,707,000 oz. troy, in 400 oz. bars of platinum.

Strangely the two USSR special envoy individuals quickly disappeared after being rescued and brought to American shores.

They were not de-briefed like all the other survivors were.

SSR first discovered the Port Nicholson in 600-800 feet of water off Cape Cod in 2008. In 2009 SSR obtained legal recognition from the US Courts as the legal owner and salvager of the ship.

SSR researchers corresponded with individuals manning the ships and even spoke with another U-boat captain who was in the same area. They have talked with survivors and relatives of the men of the Port Nicholson and the Cherokee.

One Yarmouth, MA author has written a book and is waiting for "the last chapter" of raising the valuable cargo of the Port Nicholson.

These researchers also found declassified documents verifying the cargo as well as the debriefing of the sinking.

According to SSR research, the Port Nicholson and four other ships were being escorted by six military ships in a convoy from Halifax to New York.
The Port Nicholson is documented to be carrying ~1,707,000 troy ounces of platinum. It may also contain $165M of copper, zinc and war stores.

Greg Brooks, one of two SSR founders, said his team has already recovered several identifying and critical artifacts. He has verified that "it is without a doubt the Port Nicholson".
Cape Cod platinum submarine treasure hunter