Dutch sea search stumbles on 'oldest' shipwreck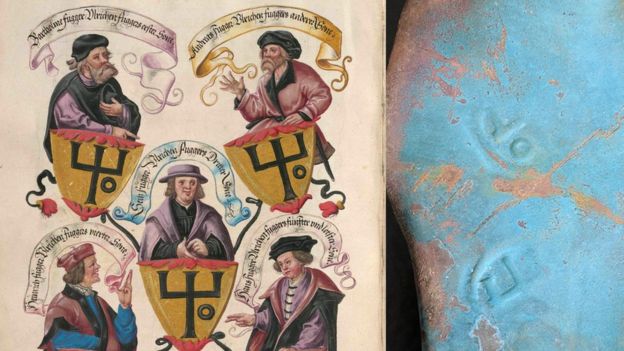 From BBC News

It is being hailed as a lucky accident, after salvage teams searching for containers that fell off a ship in a storm discovered a 16th Century shipwreck on the North Sea floor.
The ship, dating back to 1540, was filled with a cargo of copper plates and some of them were put on display on Wednesday when the find was revealed. It was owned by the Fugger family, one of Europe's richest banking families.
The wreck is being described as "the missing link" in shipping construction. "It's the way the ship was built that's very interesting because you have to think 100 years later the Netherlands was in the middle of its Golden Age - and this ship is from a transition period," maritime archaeologist Martijn Manders told the BBC.
Although it is still on the seabed, divers intend to revisit the ship during the summer. It is considered to be the oldest seafaring ship ever found in Dutch waters.
When 345 containers fell from merchant ship MSC Zoe into the North Sea during a storm on 2 January, some spilled on to land in the next days, but many more remained in the sea.
As salvage teams scoured the Dutch North Sea, their sonar equipment found an unknown object on the seabed a few miles to the north of the island of Terschelling in the Wadden Sea.