Well-preserved ship remnants found in Outer Banks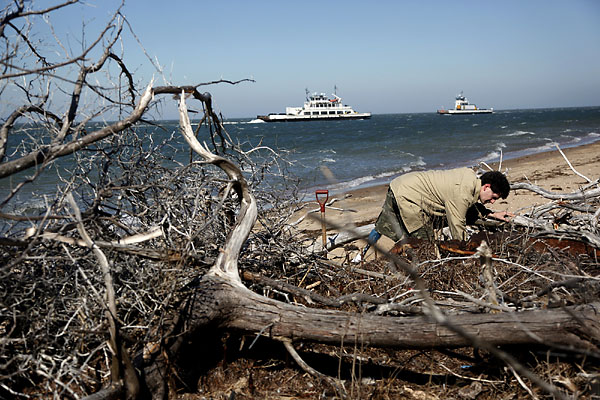 Photo Preston Gannaway

By Erin James - The Virginian-Pilot

The powerful winds of a blustery winter have uncovered the rusted metal and weathered wood of a previously unknown shipwreck on an isolated soundside beach of Hatteras Island.

The 20-foot mystery vessel has emerged from the side of an eroded dune, where recently uprooted trees attempt to shield the exposed wreck from curious eyes.
Evil-looking spikes - presumably the bolts that once held the vessel together - reach upward from their former tomb of sand and seaweed.

Definitive answers about the vessel's age and origin will have to wait for historians and scientists to analyze the find. In the meantime, there's no shortage of excited speculation.

Could it be a Civil War transport ship that failed to navigate Hatteras Inlet on its way to attack Confederates on Roanoke Island in 1862 ?
Or is this a World War II barge later converted into a ferry for transporting people between Hatteras and Ocracoke islands ?

Or is it something else entirely ?

"Someone's life may have been saved or someone may have died holding on to that wreck," said author and documentary filmmaker Kevin P. Duffus, who is considered an authority on Outer Banks maritime history.
"All of these shipwreck remains deserve a tremendous amount of respect."