Recovered artifacts offer window into piracy's golden age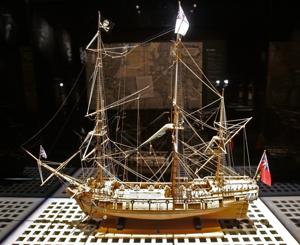 Photo Al Behrman

By Mandy Zajac - ahwatukee

As a kid growing up in Massachusetts, Barry Clifford was familiar with the old tale of a pirate ship wrecked just off the coast in one of the worst Nor'easters on record.

As an adult, he went out and found it.

The Whydah, a slave ship seized by pirates and used to plunder some 53 other vessels, was said to be laden with stolen treasure when it sank in a storm in 1717. Nearly 300 years later, it became the first pirate ship ever discovered in North America, when underwater explorer Clifford found the Whydah's bell, inscribed with the name of the ship and the year she was built, 1716.

That impressive artifact — still encased in a chamber of briny water to protect it from decay — is one of more than 200 objects on view in "Real Pirates: The Untold Story of the Whydah from Slave Ship to Pirate Ship." A touring exhibition organized by National Geographic, it opens Sunday at Arizona Science Center.

"For anyone who's ever dreamed of finding pirate treasure, anyone who's ever read Robert Louis Stevenson's 'Treasure Island,' this is the only pirate treasure ever discovered. The only certified, documented pirate treasure in the world is here," says Clifford.

Spanish coins, jewelry, dinnerware, silk ribbon and smoking pipes are on display. So are cannon and roundshot, sword handles, fancy pistols and pikes — long spears with double-edged blades that pirates would use for close combat when boarding ships.

The items, dragged up from the sea floor by Clifford and his team over nearly 30 years, offer an authentic glimpse into piracy's golden age — 1680 to 1725.

"On board the ship, at least a third of the crew were of African origin, and everyone had an equal vote, and everyone had an equal share of the treasure. They had their own type of social security. If a man lost an arm or a leg, he would be given so much money. If he was killed, his family would receive almost a type of insurance.

Prior to us finding the ship, I didn't really understand any of that. They were actually experimenting in democracy, (these) outlaws and former slaves," says Clifford.
Barry Clifford pirate Whydah America