Noble drillship nearly wrecks on Alaskan shore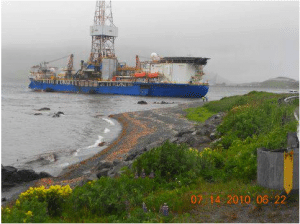 From gCaptain
Murphy's Law was proven once again this weekend as the Noble Discoverer, a Shell-contracted drill ship destined to start drilling in arctic waters, encountered ground tackle issues of some sort last night and wound up dangerously close to the shore of Hog Island in Unalaska Bay near Dutch Harbor.
The state of Alaska has a number of different anchorages available in Unalaska Bay depending on the gross tonnage of a given vessel.
Wide Bay or Broad Bay (directly to the south of Wide Bay) are two designated anchorages for vessels greater than 20,000 gross tons, however the anchorage between Hog Island and Amaknak Island is the likely place where the Noble Discoverer was anchored.
This anchorage is rated for vessels between 10,000 and 19,999 GT which draw 30 feet or less.