Wrecked and buried, now stripped and sold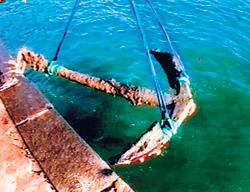 By Chris Kamalendran - The Sunday Times

A racket involving the illegal salvaging of ship wrecks in the territorial waters of Sri Lanka and selling them off as scrap iron has surfaced, but officials appear to be lost at sea as loopholes in the law and political patronage have made things smooth sailing for the racketeers.

The Sunday Times learns that since the conclusion of the war, a group based in Colombo together with operatives in the north east and area politicians are behind the vandalising of sunk vessels.

More than 80 vessels, including foreign ones and those that once belonged to the defeated LTTE are known to have sunk off the northern and eastern seas in the past few years. Legally the state owns these wrecks.

However, well-organised racketeers, with powerful backing have begun salvaging these wrecks with the expertise of master divers and high-tech equipment. The iron is later sold off as scrap for millions of rupees in the open market.

The racket surfaced recently following the arrest of a group of people in Ampara along with a large stock of scrap iron. It was later revealed that these had been salvaged from a sunken ship off Ampara coast.

The group had carried out their operations armed with a document purportedly issued from the Coast Conservation Authority, endorsing the salvaging of the ships.
However, the CCA does not have the mandate to issue such a permit, the Sunday Times learns.