Ex-treasure hunter kept in jail over gold found in shipwreck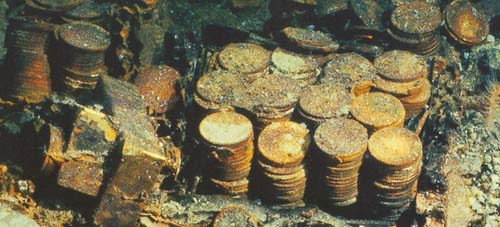 By Kim Palmer - Reuters

A U.S. judge is keeping a former treasure hunter in jail for again failing to answer questions about the location of 500 commemorative gold coins from the discovery of a 19th century shipwreck, prosecutors said on Monday.
Thomas "Tommy" G. Thompson, 63, of Columbus, Ohio, was arrested in 2015 and jailed because he failed to appear in court to disclose the whereabouts of the gold coins discovered in 1988 in the wreck of the SS Central America.
Last December, Thompson was sentenced to one year of supervised release, a $250,000 fine and 208 hours of community service, but the sentence was not to take effect until he revealed where the coins were.
On Monday, U.S. District Judge Algenon Marbley of Ohio found Thompson in contempt of a court order in a civil lawsuit over the treasure, said Jennifer Thornton, a spokeswoman for the U.S. Attorney's office in Columbus.
Marbley also continued a daily fine of $1,000 until Thompson reveals the location of the treasure, Thornton said. Thompson's lawyer could not immediately be reached to comment.
Thompson told the court last December that he had a stroke and suffered from chronic fatigue syndrome, short-term memory loss and other physical problems. He apologized then for not appearing in court previously to answer questions.
shipwreck gold SS Central America treasure hunter