How to survive the Titanic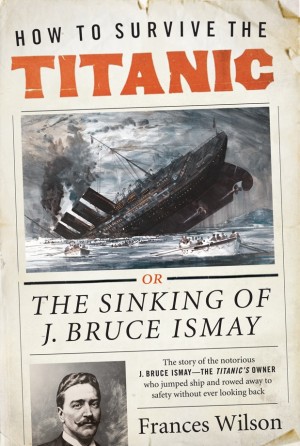 By John Konrad - gCaptain
What fundamentally hasn't changed in the 100 years since the Titanic ?
One hundred years ago today Harland & Wolff shipyard in Belfast Ireland was putting the final touches on a ship that would hold the title of the world's largest passenger liner but her glory would be brief.
On 15 April of the following year, 1912, she would claim a more ominous title as the world's most infamous ship. Her name was the RMS Titanic.
Scores of books have been written chronicling the disaster but few take the time to understand the men behind the tragedy.
In a new book titled HOW TO SURVIVE THE TITANIC, Award-winning historian Frances Wilson delivers a gripping account of the incident.
By investigating the ship's collision and sinking through the prism of the demolished life and lost honor of the ship's owner, J. Bruce Ismay, Wilson brings a bright new perspective to the event raising provocative moral questions about cowardice and heroism, memory and identity, survival and guilt—questions that revolve around Ismay's loss of honor and identity as his monolithic venture —a ship "The Unsinkable" — was swallowed by the sea and subsumed in infamy forever.
The book is more than a gripping tale of survival, it's also a window into the role ship managers and shipping tycoons play in the instigation of maritime tragedies.
The consolidation of major shipping and energy companies in recent years have created mega-conglomerates like Transocean and BP, companies in which CEO's are responsible for the management of increasing risks and operational complexity.
While modern technology and regulations have made sweeping changes to the operation and safety of ships since the Titanic, as told by Wilson, the fundamental cause of disaster is the human element.
The character, motivations and personality of CEO's play an important role in safety at sea. This, unfortunately, has not changed. The fundamental element of human nature and corporate decision-making on ship safety is just as relevant today as it was 100 years ago.