23 September 1779: "I have not yet begun to fight!"…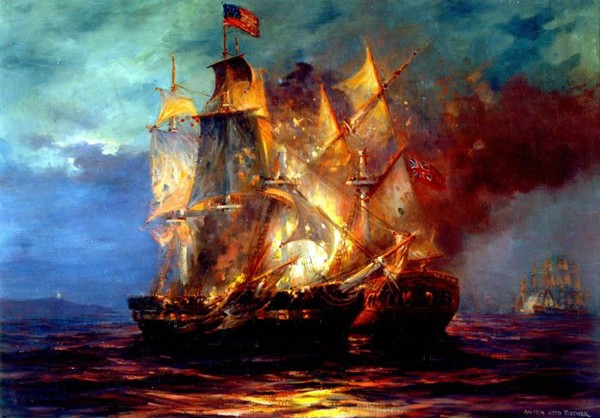 By Rob Almeida - gCaptain

On this day, 232 years ago, the 50-gun HMS Serapis engaged the Bonhomme Richard in the North Sea off Flamborough Head, England. Skippered by Captain John Paul Jones of the Continental Navy, the Bonhomme Richard was devastated inthe initial broadside between the two ships, losing much of her firepower and many of her gunners.
Captain Richard Pearson, commander of the Serapis, called out to Jones, asking if he surrendered. Jones' famous reply: "
I have not yet begun to fight !"

With the wind dying, and the decks of both ships strewn with the carnage of battle, the two ships became hitched together with grappling hooks. Sharpshooting sailors (Marines) in the rigging slowly picked off the the English sailors one-by-one.

Following a crippling broadside from the Continental Navy frigate Alliance, one that reportedly damaged the Bonhomme Richard as much or more so than the Serapis, Captain Pearson realized the futility in continuing the fight and tore down his colors, surrendering the Serapis.