Michigan's Lake Huron 'Shipwreck Alley'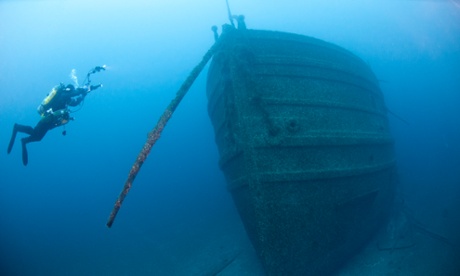 From The Guardian
The Thunder Bay National Marine Sanctuary in northern Michigan has received federal approval to expand its size nearly tenfold and boost the preservation of scores of sunken vessels in an area of Lake Huron once known as "Shipwreck Alley".
Thunder Bay, the only freshwater national sanctuary, is announcing on Friday that the Obama administration has approved the years-in-the-making effort to grow from about 450 square miles to 4,300 square miles.
The expansion — which incorporates the waters from off Alcona, Alpena and Presque Isle in the north-eastern Lower Peninsula and to the maritime border with Canada — also doubles the number of estimated shipwrecks to roughly 200.
The effort to expand the sanctuary, originally created in 2000, started with three failed congressional bids and then the administrative review process through the Commerce Department.
The department oversees the National Oceanic and Atmospheric Administration, which manages the sanctuary along with the state of Michigan.
"It's been a long, long effort," the sanctuary superintendent, Jeff Gray, said.
"It's a pretty monumental thing ... In a small way we raise the Great Lakes into this national dialogue."
While many spots along the Great Lakes are hazardous,Thunder Bay became known as "Shipwreck Alley" in the 19th century, as it was part of a major shipping channel during an era when the region had few alternatives.