Shipwreck found along the Outer Banks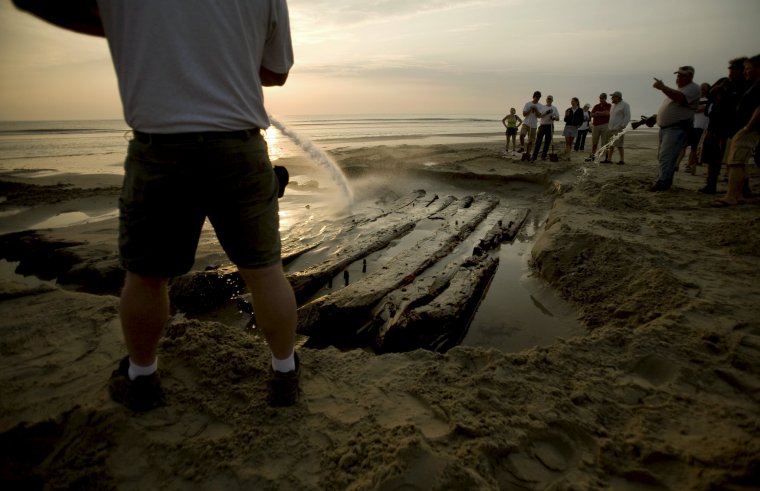 By Jeff Hampton - The Virginian-Pilot

The oldest shipwreck ever found along the North Carolina coast could be a 28-gun British naval vessel.
While there is no way to prove it, evidence indicates the wreck discovered seven years ago in the Corolla surf could be the HMS John, which foundered off the coast in 1652.
The identity of the wreck has been a mystery since it washed up in 2008.
But now, after researching European shipbuilding techniques of the 1600s and wrecks near North Carolina for two years, maritime archaeologist Dan Brown thinks he's figured it out. Brown gave a report on his findings this week at the Coastal Studies Institute in Wanchese.
The study is part of Brown's master's thesis from East Carolina University. "It was a pretty awesome sight," Brown, who works for the University of South Carolina Institute of Archaeology and Anthropology, said of the shipwreck.
"Somebody worked that piece of wood four centuries ago." Brown and a team of researchers studied the worn timbers and construction techniques, making note of every notch and hole. He studied centuries-old records kept by shipbuilding masters. He sought out beachcombers who collected artifacts from the wreck, such as coins and musket balls, questioning exactly where and how they were found.
When it first washed up, some experts thought the wreck might be the HMS Swift, a British ship about 70 feet long that ran aground off Point Comfort in the Chesapeake Bay in 1698. Currents might have carried the ship southward.
Its construction was similar to the Sea Venture, which wrecked off the Bahamas in 1609 on its way to Jamestown; they thought it could have been carrying supplies to the settlement.