Durham cathedral divers discover gold and silver treasure trove in riverbed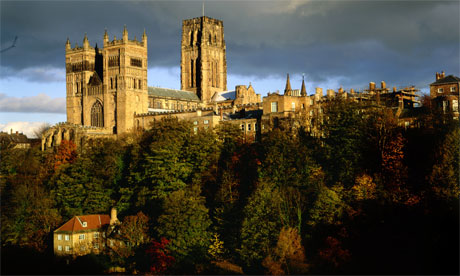 By Maev Kennedy - Guardian

After almost 30 years, the riverbed below Durham Cathedral has given up a bewildering secret: a hoard of ecclesiastical gold and silver, including medals, goblets, and crucifixes once owned by the Queen, the pope and other state and church leaders.

A total of 32 objects given as gifts to the late Michael Ramsey – a former archbishop of Canterbury who was bishop of Durham for four years in the 1950s and spent some of his retirement in the city – have been recovered from deep in the bed of the river Wear by two amateur divers, brothers Gary and Trevor Bankhead.

Their finds include gold, silver and bronze medals struck to commemorate the second Vatican council, which must have been presented when Ramsey – archbishop of Canterbury from 1961 to 1974 – met Pope Paul VI at the Vatican in 1966.

The Bankhead brothers, who made some 200 dives over two years under license from the cathedral, also discovered a solid gold Japanese medal probably presented when Ramsey met Nikkyo Niwano, president of the Japanese Buddhist movement, in 1973.