Old Corolla shipwreck to go to Hatteras museum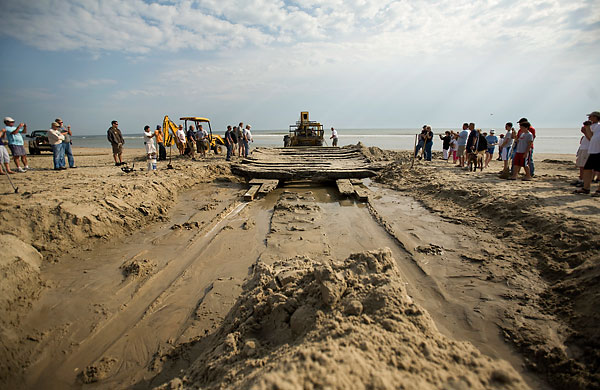 By Jeff Hampton - The Virginian-Pilot

Remains of a ship nearly 400 years old salvaged from the surf early this month will be moved from Corolla, N.C., to the Graveyard of the Atlantic Museum in Hatteras.

The wreck now sits exposed to the elements under an oak tree near the Currituck Beach Lighthouse.
State and local officials agreed it would be better off out of the weather. Typically, sand and salt water protect old wrecks but once up on land and dried, they tend to deteriorate.

Plans are to move the wreck about 90 miles south the museum within the next few weeks, said Joe Newberry, spokesman for the North Carolina Maritime Museums.

Held together with wooden pegs, the skeleton of large timbers, 17 feet wide and 37 feet long and weighing 12 tons, could be the oldest ship wreck ever discovered on the North Carolina coast.

State underwater archaeologists plan to study the wreck further to document its construction and try to identify the ship.

When the remains appeared years ago deep in the sand near the Currituck lighthouse, local beachcombers found coins and other artifacts around them.

Severe winter storms late last year fully exposed the timbers and grabbed the attention of state scientists.
In the last few months, surf and tide moved the wreck two miles south and washed away some of its pieces.