Wreck of Titanic sister ship finds new destiny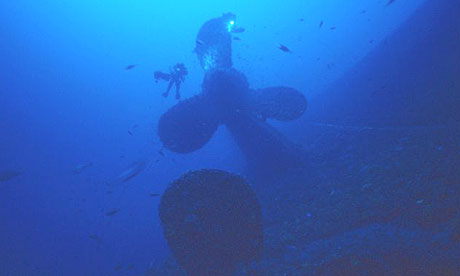 By Helena Smith


Nearly 92 years have elapsed since Captain Charles Bartlett, standing in his pyjamas on the bridge of the biggest vessel in the world, the HMHS Britannic, gave the call to abandon ship.

It was 8.35am on November 21 1916. The four-funnel ocean liner, built to be even larger and safer than the "unsinkable" Titanic, her ill-fated sister, was listing fast.
Bartlett knew the ship was doomed, but on this eerily calm morning as it sailed to collect troops wounded in the first world war's Balkans campaign, neither he nor any of his crew could have imagined the speed with which the vessel would go down.

The explosion occurred at 8.12am, sending a giant shudder through the gargantuan vessel, badly damaging its bow as it steamed past the Greek island of Kea. Fifty-five minutes later, the 269-metre (883ft) "wonder ship" lay starboard side down on the seabed.

Read more...
Greece museum underwater shipwreck