Life under the sea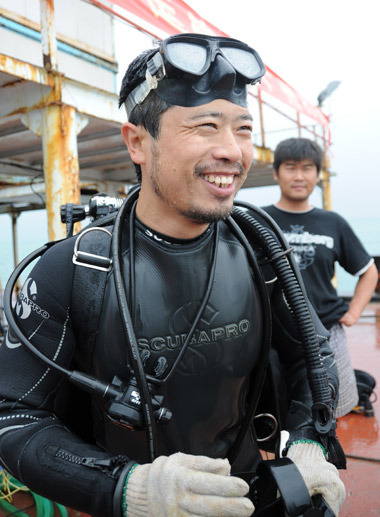 By Zhang Zixuan - China Daily

When bubbles float up to the surface of the sea, divers on the workboat know that their colleague Liu Zhiyuan is ready to get out of the water.
Following a guide rope, Liu finds the ladder and takes off his fins while a colleague helps to lift the two 50-kg oxygen tanks off his back.

Liu, an underwater archaeologist, is excavating the sunken ship Nan'ao No 1, which experts believe went down during the reign of Emperor Wanli (1563-1620) of Ming Dynasty.

It was found in 2007 in the South China Sea near the appropriately named Nan'ao Island in Guangdong province.

If everything goes well, Liu and his colleagues will be able to salvage all the cultural relics on it by mid-July.

So far they have recovered mostly porcelains, as well as copper coins and an iron cannon, which may have been for protection against pirates.

China started its underwater archaeology in the 1980s after British marine explorer Michael Hatcher discovered the wreck of the Dutch ship Geldermalsen, which sank in the South China Sea in 1751, and removed 150,000 Chinese porcelain artifacts.

Those relics were sold for $20 million at a Christie's auction in Amsterdam in 1986.

International law on underwater salvaging can be vague and inconsistent between countries, so when the Chinese government found no way to sue the explorer it decided to build its own underwater archaeology team.

Since 1989 the center has trained more than 90 underwater archaeology divers.

Liu, 34, who is also deputy director of the Underwater Cultural Heritage Protection Center of Guangdong Archeology Research Institute, holds certificates for 10 different diving categories, such as nighttime diving and underwater photography.

Like many other archaeologists, Liu took to his profession because "you never know what you'll find" in each excavation - or in Liu's case, each dive.

Since 2005 Liu has participated in 90 percent of all underwater archaeology projects in China, mostly in the southeast coastal areas.

However, as underwater excavation is extremely subjective to wind, water temperature and visibility, each year Liu and his colleagues have only two to three months to work on the sunken ship, usually from late April to mid-July, when it is warm enough and the monsoon season has not arrived.