Extracting stranded U.S. minesweeper may take 2 months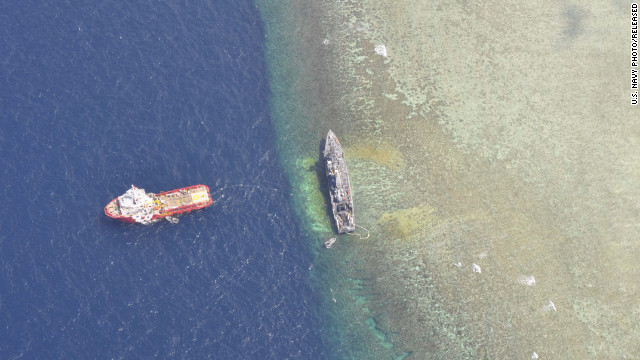 By Jason Hanna - CNN
Removing a stranded U.S. minesweeper from an environmentally delicate reef off the Philippines may take until April, the state-run Philippines News Agency reported Wednesday, citing the Philippines Coast Guard.
The U.S. Navy is preparing to extract the USS Guardian from the Tubbataha Reef, a Philippine national park and UNESCO World Heritage site where the 224-foot-long ship ran aground on January 17.
The Navy plans to cut the 1,312-ton minesweeper into pieces and then, with the help of two contracted crane ships, lift the pieces and carry them away.
Philippines Coast Guard Rear Adm. Rodolfo Isorena said Wednesday that he hopes the salvaging will begin soon so that further damage to the reef will be limited, the Philippines News Agency said.
One of the crane ships has arrived in the area, about 80 miles east-southeast of Palawan Island in the Sulu Sea, and the other is on its way, the news agency reported.
The ship is estimated to have damaged about 4,000 square meters (about 43,000 square feet) of the reef, the news agency said. Various U.S. officials, including Navy Vice Adm. Scott Swift last month, have apologized to the Philippines for the incident, which the U.S. Navy and the Philippines Coast Guard are investigating.
Philippine officials said last month that the country would seek compensation for reef damage.
The U.S. ambassador to the Philippines, Harry Thomas Jr., assured the Philippines on Monday that the United States "will provide appropriate compensation for damage to the reef caused by the ship."
The reef is home to a vast array of sea, air and land creatures, as well as sizable lagoons and two coral islands.
About 500 species of fish and 350 species of coral can be found there, as can whales, dolphins, sharks, turtles and breeding seabirds, according to UNESCO.