Cable ship erupts in flames off Namibian coast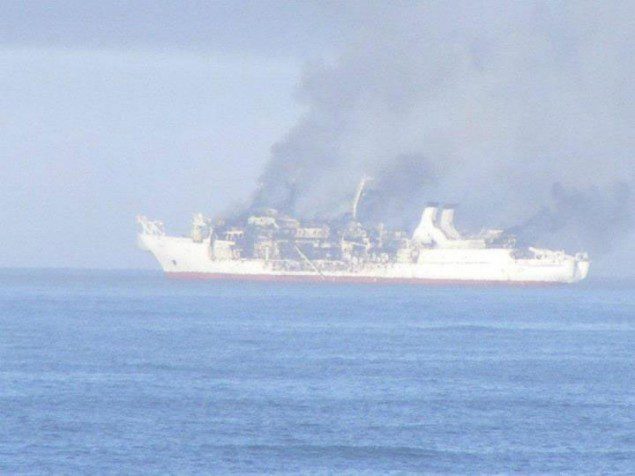 From gCaptain
A cable laying ship returning from a repair job off the coast of Namibia erupted in flames and smoke earlier this week, forcing all 56 crew members to abandon ship and leave the still burning vessel adrift just offshore in the southern Atlantic Ocean.
The vessel, the 135 meter long Chamarel belonging to the French telecommunications company France Telecom-Orange, caught fire on August 8th following a repair operation on the Sat3-Safe cable extending from South Africa to Europe.
Reports indicate that the fire started on the bridge and quickly spreading to other sections of the vessel.
In a statement, France Telecom says that despite the crew's efforts to control the blaze, the decision was made to abandon the ship at around 8 p.m. local time and all 56 crew members were safely recovered by a Namibian fishing vessel without injury or incident.
The crew is currently located at the Namibian port, Walvis Bay and will be repatriated in the coming days, the statement added.
France Telecom says that the cause of the fire has not yet been established and a full investigation will be launched as soon as the vessel has been recovered.
The company also added that the incident has no immediate impact on submarine cables in the area, which will continue to function normally.