African quest for sunken ship of Ming admiral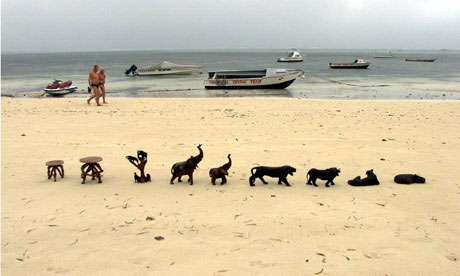 By Xan Rice - The Guardian

It's another chapter in the now familiar story of China's economic embrace of Africa. Except that this one begins nearly 600 years ago.

A team of 11 Chinese archaeologists will arrive in Kenya tomorrow to begin the search for an ancient shipwreck and other evidence of commerce with China dating back to the early 15th century.
The three-year, £2m joint project will centre around the tourist towns of Lamu and Malindi and should shed light on a largely unknown part of both countries' histories.

The sunken ship is believed to have been part of a mighty armada commanded by Ming dynasty admiral Zheng He, who reached Malindi in 1418. According to Kenyan lore, reportedly backed by recent DNA testing, a handful of survivors swum ashore.

After killing a python that had been plaguing a village, they were allowed to stay and marry local women, creating a community of African-Chinese whose descendants still live in the area.

A likely shipwreck site has been identified near Lamu island, according to Idle Farah, director general of the National Museums of Kenya, which is working on the archaeology project with its Chinese equivalent and Peking University.

"The voyages of the Portuguese and the Arabs to our coasts have long been documented," Farah told the Guardian. "Now, by examining this shipwreck, we hope to clarify with clear evidence the first contact between China and east Africa."

The project forms part of a recent effort by the Chinese government to celebrate the achievements of Zheng, a Muslim whose ships sailed the Indian and Pacific Oceans many decades before the exploits of more celebrated European explorers such as Christopher Columbus and Vasco da Gama.

Starting in 1405, Zheng made seven journeys, taking in south-east Asia, India, the Middle East and Africa, in fleets of up to 300 huge ships with nearly 30,000 sailors in total, according to Chinese records.
China Ming dynasty Africa museum